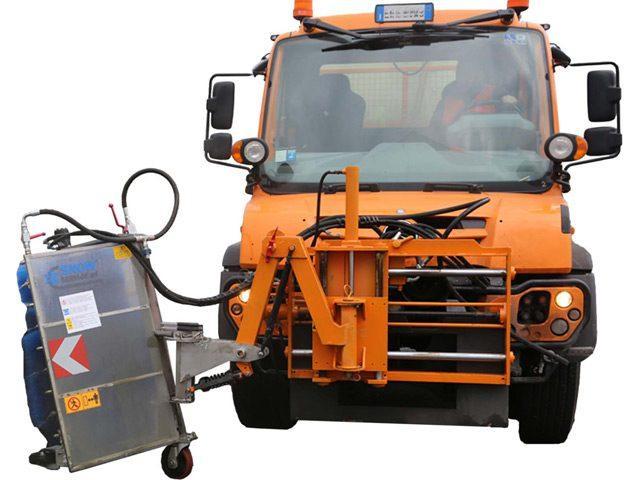 Municipaltech designs and manufactures sweepers for road cleaning and innovative washing systems, such as the range of equipment for the New Jersey cleaning.
The New Jersey barriers are available in various types and sizes depending on the type of material and on the function it has to perform: in reinforced concrete if used in the highway construction sites or as permanent traffic divider in high-speed roads. In PVC or PE if used in urban construction sites. The barriers are usually equipped with reflectors in order improve their visibility. Our company designs and build cleaning systems for New Jersey, such as the new jersey washing arm, BLNY type.
New Jersey washing arm, BLNY type: the BLNY is a side-arm designed and built to clean the New jersey and the retroreflectors. The arm is designed to work both on the left and on the right side; furthermore, the working height can be set. The device is equipped with special high-pressure swivel jets that ensure an excellent cleaning performance under any circumstances. With the BLNY cleaning spray bar an excellent cleaning result is guaranteed!
For further information on the BLNY arm view the technical sheet of the product.
Municipaltech can boast a considerable experience in the design of special customized new jersey cleaning systems and winter and summer road condition equipment and can upgrade and bring changes to your equipment according to your specific requirements. All this is possible thanks to our internal specialized technical team, highly qualified in using 3D CAD software tools.
Why choose our range of cleaning systems New Jersey? Because our products are the guarantee of quality and reliability, as proven by the certifications granted to us.
We design and manufacture innovative and long-lasting products, providing quality routine and extraordinary maintenance services advisable in order to ensure the best efficiency of the product and it constant upgrade for all our range of products: sweepers, tunnel washer arms, filler spreaders, New Jersey cleaning systems and summer road equipment. We also supply spare parts for the repair of our equipment both for private or public authorities such as: ANAS, Autostrade Spa, Civil Protection Bodies, Municipalities, Regional bodies, and Mountain communities.
For further information on our cleaning systems for New Jersey please do not hesitate to contact us!