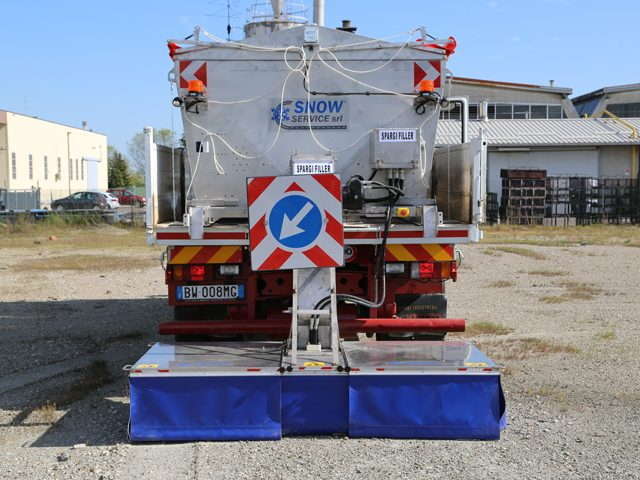 Municipaltech designs and manufactures filler spreaders and sand spreaders.
The Municipaltech catalogue includes a special series of filler spreaders: the DUAL series.
Main elements of the DUAL series filler spreaders: hopper, main frame, spreading tower and spreading system completely in AISI type 304 stainless steel. The spreading is done by means of a special honeycomb stainless steel AISI 316 chain, with which it can be spread any type of material under any circumstances. The spreading width is managed by means of the ECOMATIC GPS remote control and through the sliding binary system control. The electronic remote control ECOMATIC GPS is expressly set up to manage the spreading of thin materials such as fillers, sand or similar. The integrated GPS system inside the remote control allows the automatic spreading, according to the speed of the vehicle.
Municipaltech can boast a considerable experience in the design of special customized filler spreader and sand spreader equipment. We can realize any kind of equipment, for the winter road conditions too, according to your specific requirements.
We design and manufacture innovative and long-lasting products, providing quality routine and extraordinary maintenance services advisable in order to ensure the best efficiency of the product and it constant upgrade for all our range of products: sweepers, tunnel washer arms, filler spreaders and summer road equipment.
We also supply spare parts for the repair of our equipment both for private or public authorities such as: ANAS, Autostrade Spa, Civil Protection Bodies, Municipalities, Regional bodies, and Mountain communities.
Municipaltech offers an accurate after-sale assistance service, available by telephone, email, fax, supported by a team of highly skilled, reliable technicians.
For further information on our filler spreader and sand spreader series and sand spreaders series please do not hesitate to contact us! Municipaltech is the right company for you!