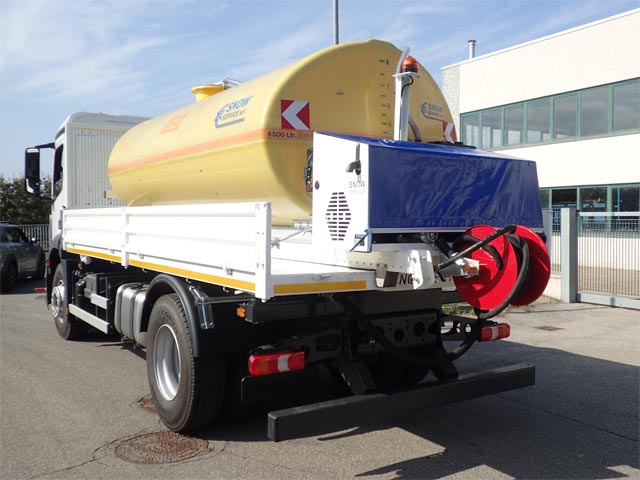 Our company can boast a considerable experience in the design of special customized equipment and machinery and not only and that is why we are ready to take on new and difficult challenges.
This is how Municipaltech became in time a reliable manufacture of innovative and high-tech equipment in the field of the sustainable regeneration of urban areas, in the production of multipurpose water modules systems and road cleaning machinery.
The multipurpose water modules (or spray bars / road washing arms) are multifunctional systems, suited to meet various requirements. Our road cleaning equipment can be installed in the front or at the back of the trucks or of the vehicle. Moreover, a vertical and orientation motion system can be applied/added to the road washing spray bar.
The multipurpose road washer tanks, used with high, medium and low-pressure pumps are a simple and extremely efficient system to face and to solve in a shorter time any need.
Our range of multipurpose water modules are designed for:
Spraying green areas;
Transport of undrinkable water for different uses;
Wash and sanitize public places (public toilets, subways, tunnels, etc.);
Wash shelters for public use (e.g. Bus stop);
Wash and disinfect the containers for collecting garbage, such as baskets, SRU bins, bins for recycling;
Spread herbicides and disinfect the green areas from insects and pests;
Cleaning and washing of urban roads, pedestrian pathways, parkings, ecc.
Spreading de-icing solution in order to prevent ice;
Dust suppression & dust control methods (PM10) by dissolving in water of a particular ecological agriculturally derived product.
Furthermore, installing on the Municipaltech road washer systems the high-pressure pumps and the custom-made lances it is possible to use the equipment to extinguish small intensity fires.
The multipurpose water modules equipped with high pressure pumps can be used to clean painted walls or walls with graffiti or to wash the sewage pipes CANAL-JET.
Standing out is crucial nowadays, and Municipaltech differentiate itself because it is a small and flexible company, ready to develop new projects, to be one step ahead in terms of technology and to manufacture customised equipment keeping in mind the customer's needs. Our goal is to offer solutions developed to match your unique business needs, designing special customized summer equipment and solutions
The wide range of tunnel washer arms/systems, here below listed, are also part of the multipurpose water modules series:
In case of any problems with your sweeper or any of our products please do not hesitate to contact us. Municipaltech offers an accurate after-sale assistance service, available by telephone, email, fax, supported by a team of highly skilled, reliable technicians. Municipaltech provides quality routine and extraordinary maintenance services advisable in order to ensure the best efficiency of the product and it constant upgrade.
For further technical information on our long-lasting road cleaning equipment and for custom-made offers please do not hesitate to contact us! Municipaltech is the right company for you.