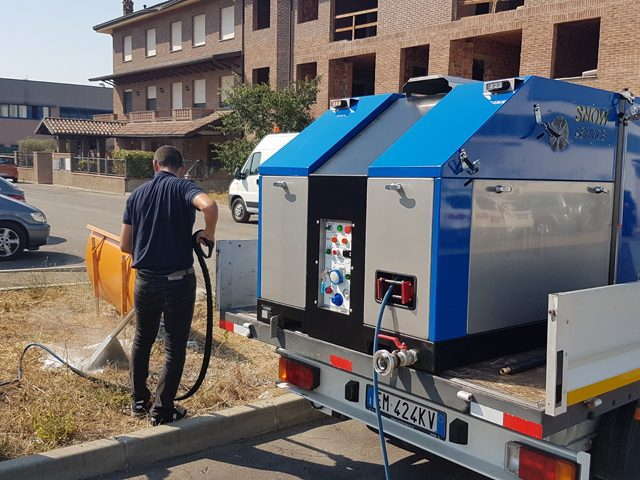 Municipaltech designs and manufactures ecological weeding equipment in various types and sizes appropriate for the regeneration and requalification of urban areas.
The equipment designed by Municipaltech for the ecological weed control stands out for the its high versatility being installed on various types of vehicles such as trucks, pick-ups, and relative devices useful to the use/maintain the arms and rotary heads in most appropriate working position.
The advantage of having an internal specialized technical team, highly qualified in using 3D CAD software tools for the design of customised special equipment and machines is to develop new solutions to best meet the customer's project needs in the field of requalification of the urban areas.
The ecological weeding modules designed by Municipaltech cast a glance at the future in terms of innovation: the advanced versatility of our equipment ensures both "still" and "in motion" weeding procedures, high-pressure washing of any kind and the possibility to add and install different tolls and modules according to the kind of weeding to be carried out.
The main ecological weeding devices designed by Municipaltech are the following:
Ecological weeding module to be installed on trucks and pick-ups of different types and sisez. Also used for the high-pressure washing.
Front ecological weeding arm designed for the "in motion" weeding procedures. To be installed on the front of the trucks and agricultural tractors equipped with a DIN plate. Also available with a three-hitch point.
We design and manufacture innovative and long-lasting products, such as the ecological weeding modules, providing a long-term guarantee and quality routine and extraordinary maintenance services for the entire range of requalification of the urban areas equipment. Municipaltech offers an accurate after-sale assistance service, available 24 hours a day by telephone, email, fax, supported by a team of highly skilled, reliable technicians.
For further information on our ecological weeding equipment and for custom-made offers please do not hesitate to directly contact us or fill in the attached form!