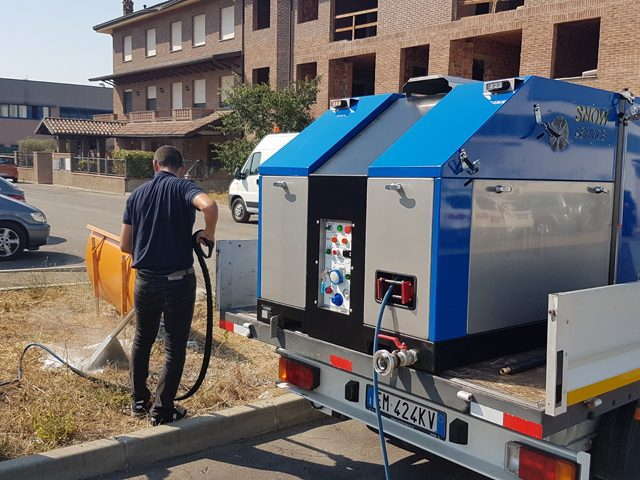 The Weeding unit can be mounted on each type and size of vehicle (pick up, truck). The equipment in addition to being used for weeding can also be used for high pressure washing with hot water.
General standard features - Weed Killer ecological weed control
Frame in stainless steel equipped with the necessary devices for loading and unloading the equipment by means of a forklift. The WK is totally protect by steel box with inspection doors for maintenance. The weeding unit is independent and is equipped with a Diesel generator of 220V – 7 Kw, one high-pressure pump from 140 bar – 9 lt/min, and a boiler for the heating of the water. The standard version of the Weed Killer is equipped with a ppl tank, capacity 500 liters, where is possible to add other tanks in order to increase the capacity: to reach 1000 liters (N.2 tanks of 500 liters/each), to reach 1500 liters (N.2 tanks of 750 litres/each) and to reach 2000 liters (N.2 tanks of 1000 liters/each).
In the rear part of the equipment there is an automatic hose with 20 mt of pipe and n°2 nozzles (one for weeding and one for the high-pressure washing). N°2 strobe lights are present in the back.
Engine data for the functioning of the WK weeding unit
Autonomous by Diesel generator 220V – 7 Kw.
Control panel
On-board control panel allowing the control and setting of all the functions of the equipment. On the control panel, in addition to the alarm light and manometers for the control of the pressure, there is also an industrial electric pin where is possible to connect electric tools like drill, night light, grinder, welders, etc.).
Standard Options
Weeding module equipped with a tank capacity of 500 liters, steel box with inspection doors, diesel generator 220V – 7 Kw, high-pressure piston pump with pressure 140 bar and flow 9lt/min, boiler for heating water, diesel tank (for engine and boiler), tanks for additive, control panel, rear hose with 20 mt of pipe, lance for weeding and lance for high pressure washing. N°2 strobe lights are present in the back.
Options
Lance with rotary nozzle for high pressure washing, lance for washing floors, front arm for weeding while in motion (to be quoted according to the type of vehicle to be mounted on), supplementary tank with a capacity of 1000 liters, 1500 liters , 2000 liters.
For further information on our ecological weeding module and for custom-made offers please do not hesitate to directly contact us or fill in the attached form!