Ecological weeding module BDV
Ecological weeding module BDV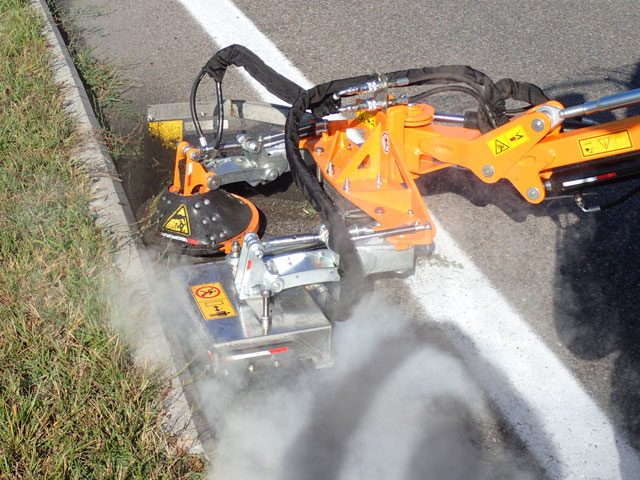 Ecological weeding module with front articulated arm and DIN backplate coupling.
Lateral shock absorber system by means of a nitrogen accumulator.
180-degree swivel system of the entire arm by means on a hydraulic cylinder.
Control of the working height through a hydraulic cylinder equipped with a drop valve.
Parallelogram shaped system useful to maintain the working heads in an adequate working position.
Support wheel with manual control useful to always keep the same working distance from the ground.
Adjustment of the leaning angle of the 2 heads compared to the New Jersey/Guard Rail by means of a hydraulic cylinder.
Interchangeable and detachable swivel heads by means of a pivot with security plug.
Possibility to install various kinds of swivel heads according to the type of weeding to be carried out.
Uses of the BDV ecological weeding module
The BDV front arm for the ecological weeding is a system designed for the removal of weeds while "in motion". The BDV arm can be installed in front of trucks or tractors equipped with a DIN plate; as an alternative it is available with a three-point hitch.
Notes
Municipal Tech can provide customised offers according to the customer's specific requests.
For further information on our ecological weeding module BDV and for custom-made offers please do not hesitate to directly contact us or fill in the attached form!
Modulo Per Diserbo Ecologico BDV 01 Municipal Tech

Modulo Per Diserbo Ecologico BDV 02 Municipal Tech

Modulo Per Diserbo Ecologico BDV 03 Municipal Tech

Modulo Per Diserbo Ecologico BDV 04 Municipal Tech

Modulo Per Diserbo Ecologico BDV 05 Municipal Tech

Modulo Per Diserbo Ecologico BDV 06 Municipal Tech

Modulo Per Diserbo Ecologico BDV 07 Municipal Tech

Modulo Per Diserbo Ecologico BDV 08 Municipal Tech

Modulo Per Diserbo Ecologico BDV 09 Municipal Tech

Modulo Per Diserbo Ecologico BDV 10 Municipal Tech
Video