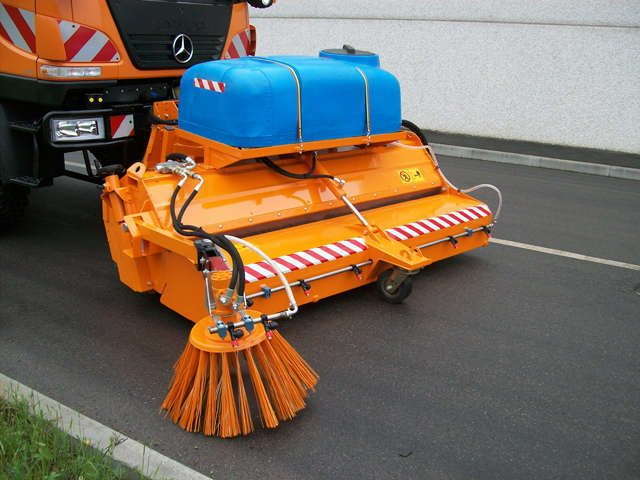 SPC Type - Hydraulic road sweeper frame
Sweeper frame in tubular steel sheets and steel. Quick coupling steel framework.
Tractor 3-point hitch front/rear:
DIN 76060 quick coupling plate,
quick coupling for front loaders, machines or telescopic arms.
Possibility to turn to right of the sweeping roller through a mechanical tie-rod or by means of a hydraulic cylinder (optional). The body of the sweeper during the operating phase on the road surface, is supported by 2 or 3 rubber pivoting wheels (the third wheel is supplied or not according to the presence of the front dirt container). The sweeping roller consists of interchangeable rings of 600 mm diameter, the ring can be supplied in plastic, in steel or mixed materials. The ground pressure of both the brush roller and the side brush is adjustable by means of two cranks installed at the two ends of the sweeper.
Dirt Container Collection
Parallelepiped-shaped, is made of welded sheet steel continuous wire, hinged on the front part of the sweeper, its opening and closing being possible by means of a double -effect hydraulic cylinder.
Dust suppression system
Made of a stainless-steel spray bar, equipped with interchangeable nozzles, a 12V / 24V electric pump and polyethylene and a polyethylene tank fixed through a bolted frame on the body of the sweeper.
Hydraulic operation system
N° 2 hydraulic engines for the control of the roller brush and of the side brush, flow rate regulating valve to set the speed of rotation of the roller brush and of the side brush; pipes to turn on and off the collection container, tubing for lifting/lowering movements of the sweeper (DIN 76060), pipes for tilting.
Operational features
Front sweeping machine suitable for cleaning of the roads, and in private areas such as construction sites, parking lots etc.
Suitable to be installed on tractors with more than 60 hp, backhoe loaders, wheel loaders, trucks with PPT> 3.5 T with independent hydraulic system.
For further information on the SPC road sweeper and for a custom- please do not hesitate to directly contact us or fill in the attached form!