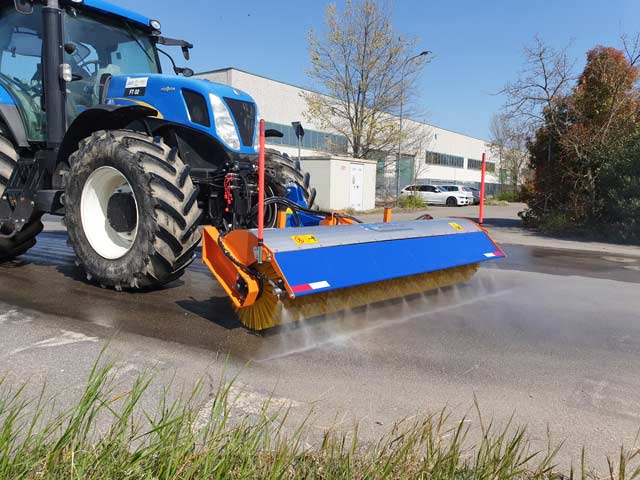 SWC type road roller sweeper body
Bearing frame made of tubular steel, superior protection in HD polyethylene, fitting structure Din 76060 A / B or alternatively the front tractor linkage or wheel loader. Orientation and hydraulic lifting by double-effect cylinders. The body of the sweeper, during the operational phase is supported by n° 2 pivot wheels to facilitate the operational functions of the brush according to the conditions of the roads. The sweeping roller and consists of interchangeable brush rings D = 600 mm, the same can be supplied in plastic l, steel or mixed materials. The wear resistant control of the brushes is made through two adjustable supports installed on the lateral side of the sweeper body.
Hydraulic operation system
N ° 1 hydraulic motor for the operation of the roller brush, the flow rate regulating valve for speed control roller brush, n ° 1 distributor double cylinder for orientation effect, n ° 1 distributor double cylinder for lifting effect.
Operational Features
Front sweeping machine suitable for cleaning of the roads, private areas such as construction sites, parking lots etc. Suitable for the application on agricultural tractors, backhoe loaders, wheel loaders and trucks.
For further information on the SWC roller road sweeper and for a custom- please do not hesitate to directly contact us or fill in the attached form!