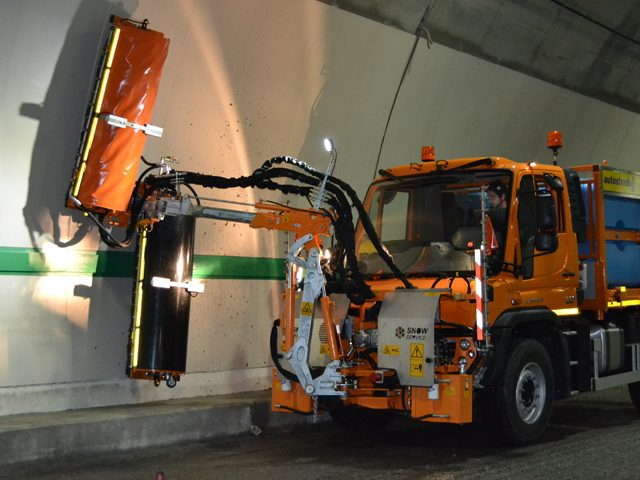 The tunnel washer arm BLT 3000 is an exchangeable equipment designed and built to clean and wash tunnel sections. Replacing the brushes with special rotary nozzles it is possible to carry out any kind of vertical cleaning requirement (sound absorbing barriers, road signs, solar panels).
The equipment is made up of n. 2 different devices:
The front TUNNEL WASHER spray bar
The rear end MIP 3000.
Tunnel washer front arm to clean tunnel sections
On the front group are installed the rotary heads that ensure the cleaning through the abrasive action of the rotary brushes supported by the constant jet of cleaning solution (water + concentrate cleanser). The rotary brushes of the BLT 3000 road tunnel washer arm are driven by independent hydraulic motors while the multidirectional movement functions of the arm are controlled by means of hydraulic pistons. It is also equipped with a shockproof valve on the rotating cylinder of the arm, in order to provide cushion effect when backing up in an uncontrolled way. On each head it is also installed a group of ultrasonic sensors necessary for the positioning of every single head at the beginning of cleaning process.
(distance adjustment of the brushes from the wall). Each head is also equipped with a hard PVC type protection. These protections are installed in order to limit the dispersion of the cleaning solution sprayed towards the wall thus preventing its dispersion into the pavements. The bilateral adjustable spray bar for the "secondary" cleaning, is mounted between the driver's cab and the movement arm, being equipped with high pressure nozzles that ensure excellent washing characteristics even where the brushes cannot clean (vertical road signs).
The tunnel washer arm is equipped with a coupling plate DIN 76060 A / B, it is necessary to connect the PTO drive shaft, this PTO connection allows to control the equipment with N. 2 independent hydraulic blocks, tanks included.
Mip 3000 is a rear end water module made up of a main frame and of all the devices it includes:
n°3 tanks for only water capacity 1000 liters each / 1 total 3000 liters
n°1 tank for mixed cleanser with water capacity 1000 liters
n°1 tank 30 liters only cleanser (before being mixed into the tank)
19 hp auxiliary diesel engine (for a self-functioning of the module)
Heat exchanger
Fuel tank capacity 30 liters
Oil tank
Rear lights / running board
Hose reel four the piston pumps (water circuit)
Manual hose reel for the membrane pump
Both the MIP 3000 rear module and the tunnel washer arm are managed by the control panel installed in the drivers' cab; all working functions are controlled through the control panel. On the rear side of the module, command is installed that allows the manual control of the equipment.
For further information on the BLT 3000 tunnel washer arm and for custom-made offers please do not hesitate to directly contact us or fill in the attached form!